Enjoy the complete experience!
!
World's best manufacturer of Trampoline Parks. From design
to production and installation.
IATP Berlin 2019 >> Photos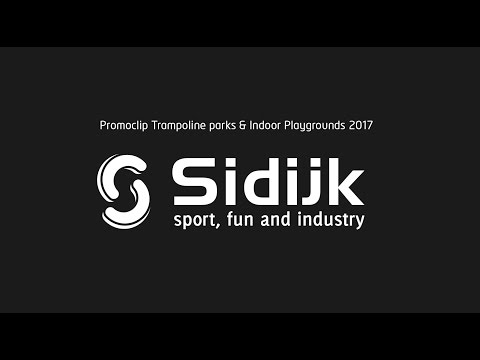 PROMOCLIP TRAMPOLINE PARKS AND INDOOR PLAYGROUNDS!
Sidijk, your partner in the field of trampoline parks!
!
With 40 years of experience and over 100 employees, we are your partner in the field of trampoline parks. As an official supplier of the Olympic Games, our roots lie in top sports. From our location in Heerenveen, The Netherlands, we design and produce trampoline parks. Our main focus point is always customization. In order to guarantee the ultimate jumping experience of your park, we will sit down with you and together we will create your own, unique and distinctive trampoline park.

Already we created and made different concepts and installed parks for customers in Austria, England, France, Germany, Switzerland, the Netherlands, Russia, the United Arab Emirates and Spain.
No-noise springs
.
A park full of trampolines without the noise of springs, it sounds incredible. The unique springs we use have minimum sound with maximum load.
Quality in every fibre
.
Also top athletes only want the best. That is why it is not a coincidence that we are Olympic supplier of Sochi 2014. Sports and fun come together in our trampoline parks.
Safety first
.
Our materials and products meet the strict demands for trampoline parks. We follow the guidelines of the American safety standards (ASTM). Safety is of course the most important condition to enjoy maximum fun.
A UNIQUE PRODUCT,
A UNIQUE APPLICATION
You as a customer, are the main focus point of the design and concept of your trampoline park. Together with your ideas, our knowledge and experience and our creative designers, we will work on your trampoline park which will exceed all your expectations...
Sidijk Trampoline parks
Worldwide 40 years of experience
Customization so a unique experience is being created
High quality materials
Safety
International and experienced installation team
Global support and maintenance
Let's jump together
!
Sidijk BV – Trampolineparks
Pluto 1 & 3,
8448 CM Heerenveen
The Netherlands
+31 566 - 625 700
info@sidijk-trampolineparks.com